DOJ sues Google. The US Justice Department and eight states have filed a lawsuit against Google, accusing it of illegally engaging in a campaign to dominate the technology used to power online advertising. The complaint states that Google has distorted competition in the ad tech industry and seeks to have the US District Court for the Eastern District of Virginia force Google to sell much of its ad tech products, and to stop it from engaging in such practices. In a friendly tone, this marks a significant escalation of legal pressure on one of the world's most powerful internet companies, and the first antitrust lawsuit against a tech giant under President Biden's Administration.
The fifth antitrust lawsuit against Google has been filed by U.S. officials this year, as world governments continue to strive for curbing the power of tech giants over information and commerce online. Across Europe, Amazon, Google, Apple and others have been subject to antitrust investigations and charges, while new laws have been established to reduce the harms of social media and regulate data collection.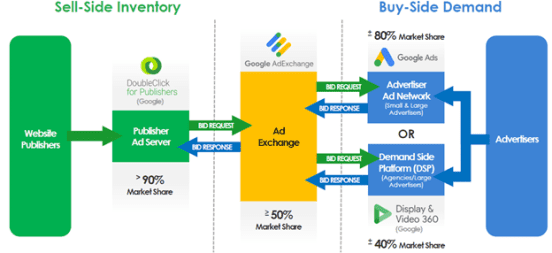 In the U.S., Google has come under special consideration. Last year, a group of states spearheaded by Texas initiated an antitrust lawsuit against the company related to advertising technology, and the Justice Department and a separate group of states launched a lawsuit in response to Google allegedly abusing its dominance of online search. In 2021, some states have also filed a lawsuit against Google's app store practices.
Overall, the U.S. and other countries have taken steps to ensure that big tech companies are held accountable for their actions and that consumers are offered a fair and transparent online environment.
Get the full DOJ Press Release here: Justice Department Sues Google for Monopolizing Digital Advertising Technologies.

Also read the New York Times coverage of this news here: U.S. Accuses Google of Abusing Monopoly in Ad Technology.