Free SEO Checker Tool to Analyze and Audit Your Website's SEO
Struggling with SEO? Not getting the web traffic you desire? Our free SEO checker tool is the solution you've been seeking. Simply enter your website's URL and click "Audit Now" for an instant SEO analysis report of your website. Uncover your website's performance issues and make your path to improvement clear with our website SEO audit tool.
No restrictions. Unlimited Use. No Email needed.
Our SEO Checker and Audit Tool is Trusted by Successful Brands and Agencies
A Comprehensive Website Audit
Search Engines such as Google and Big, rely on many SEO factors to rank a website. This Compuvate SEO tool is a Website SEO Checker which reviews these SEO factors and more. The objective is to help you identify problems that could be holding your site back from it ranking potential.
Additionally, we provide a clear, actionable, and prioritized list of recommendations to help you improve your website.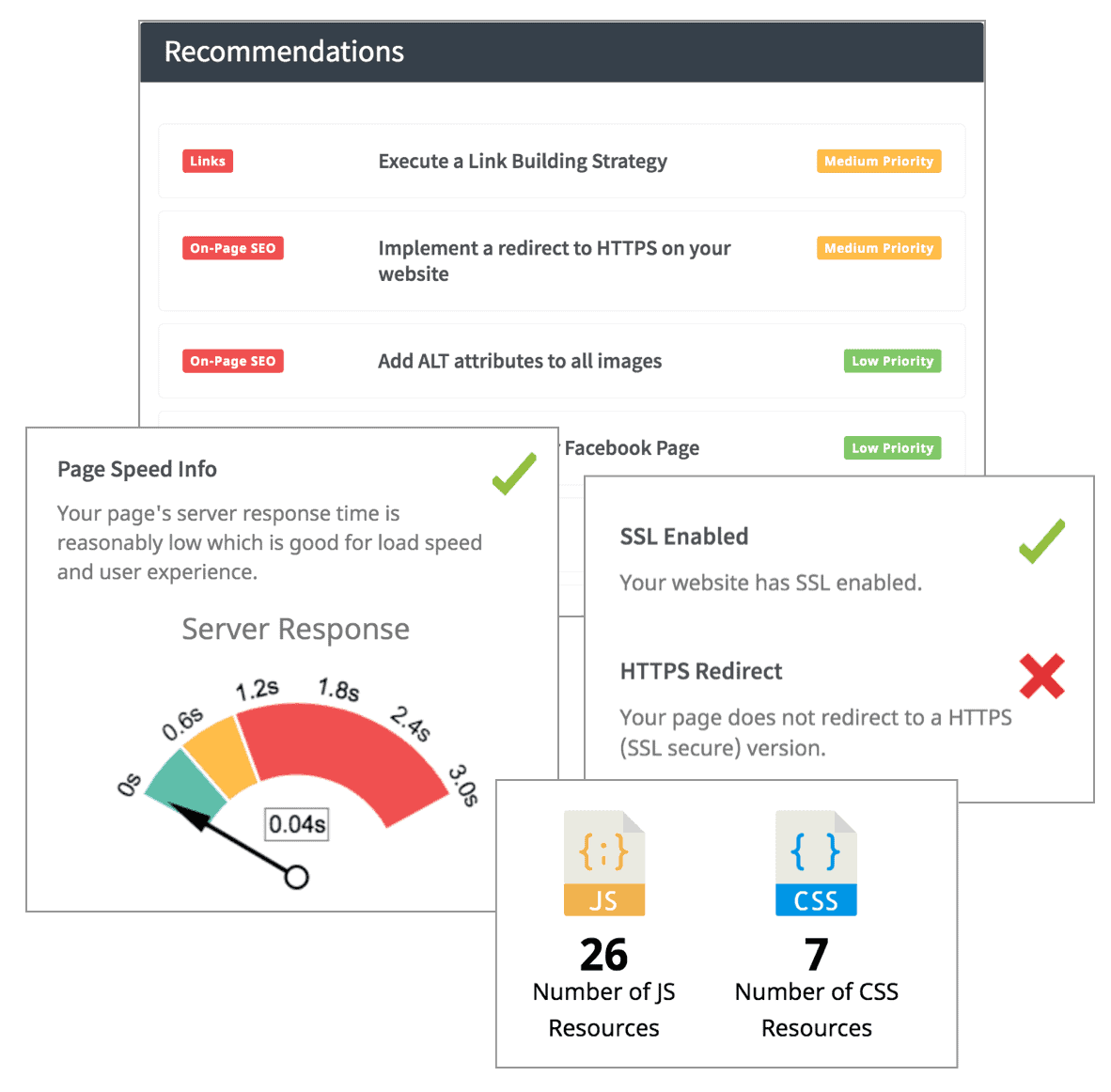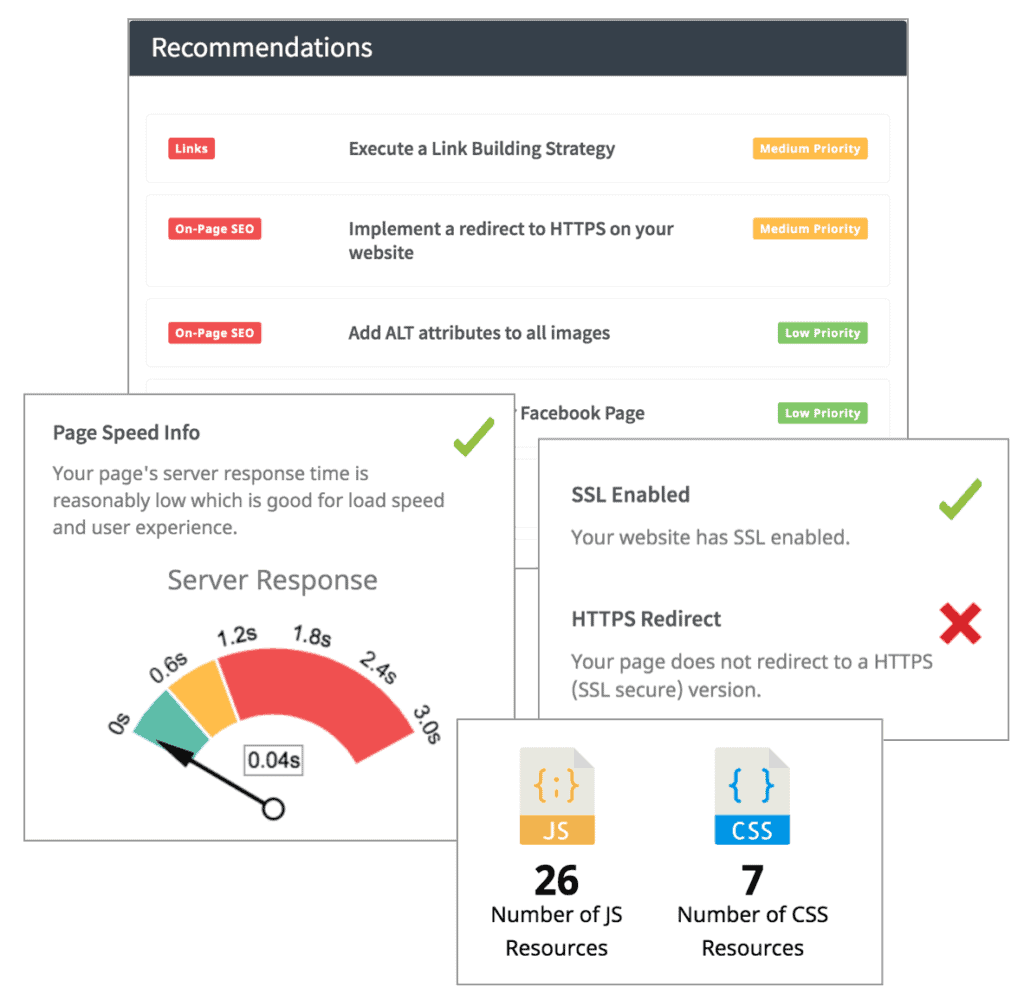 Website Usability check to improve user experience
Check Website SEO for maximum organic reach
Website Speed Performance analysis
Analyze website Security to ensure site is protected
Check website Social Media to grow your audience
This first section of the audit report gives you a graded summary of the critical components of SEO checked and analyzed by our SEO analysis tool. It also includes a link to recommendations should you want to check that section without having to scroll through the page. If you need help with search engine optimization, we offer reliable SEO services to get you more traffic to your website.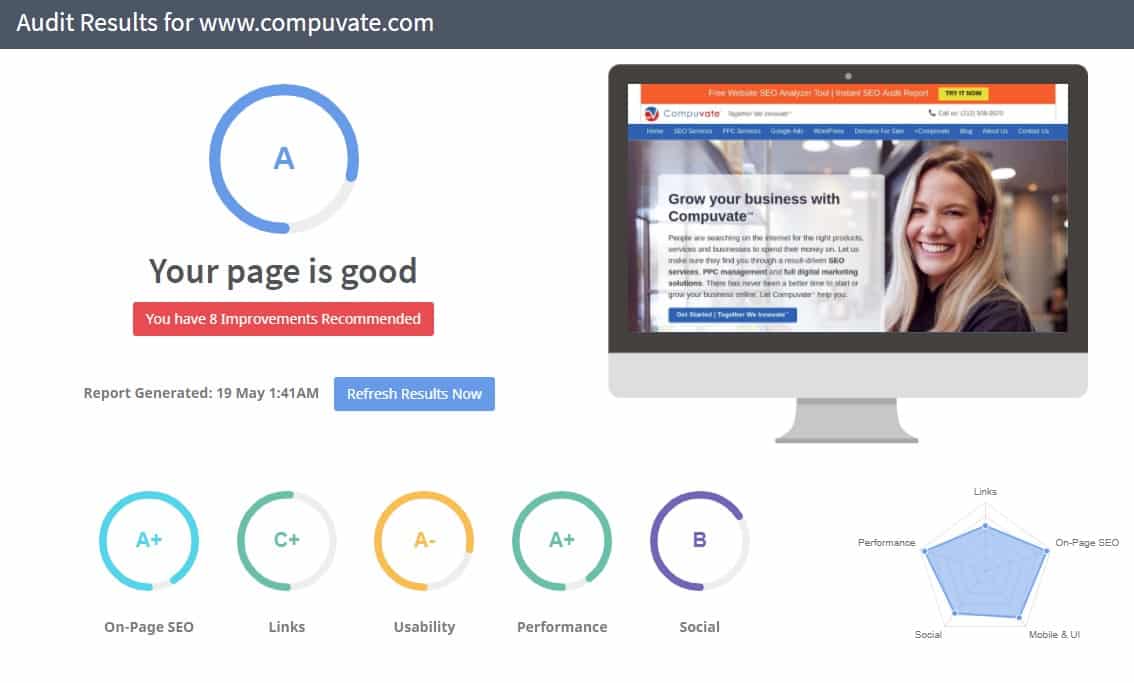 This section of the website analyzer report starts with a visual grade of your on-page SEO status. This audit will analyze SEO metrics such as title tag, meta description, header tags, keyword consistency, keyword count, content count, image Alt attributes, indexing, SSL, redirects, analytics, structured data and more.

SEO Checker will Analyze Keywords Ranking
The SEO audit tool will look at your website's keywords and their rankings. This section of the audit report shows your top 10 keywords and their Rankings. The keywords list would be presented in the order of keywords that drive the most traffic to your page.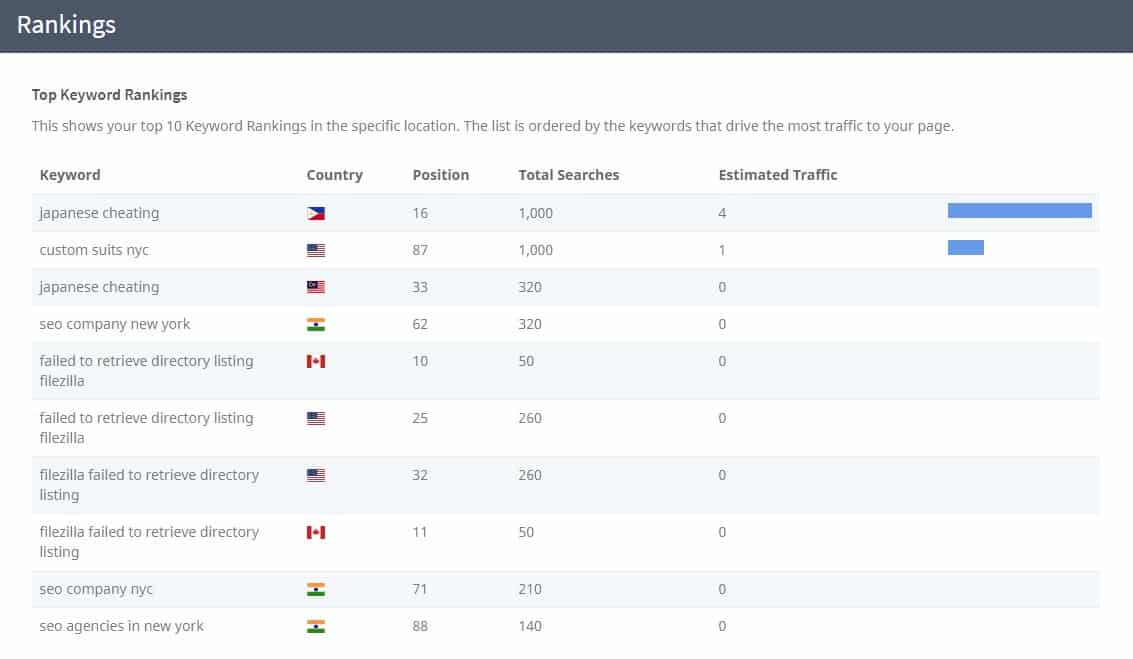 Website Backlinks Checker
Search engines use backlinks as a compelling indicator of a page's authority, relevance, and ranking potential. This part of the website SEO audit will analyze your backlinks. It will also give you a report of top backlinks to your website or webpages, including number of links, domain authority of backlinks, on-page link structure, and link friendliness.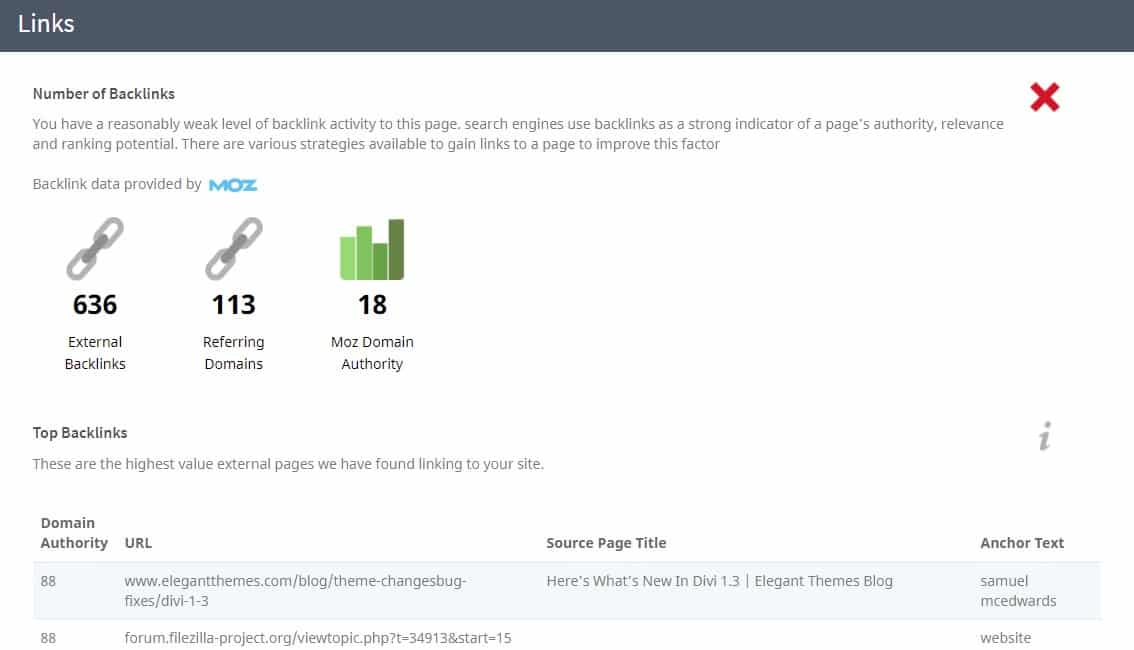 Website Usability Audit Report
Usability is important to maximize your available audience and minimize user bounce rates (which can indirectly affect your search engine rankings). This check visually demonstrates how your page is rendered on different devices. It is highly recommended that you optimize your website pages for mobile and tablet experiences. This is important because, these days, most of the web traffic comes from mobile devices. This SEO check will analyze areas such as use of mobile viewports, flash use, iFrames, favicon, email privacy, legible font sizes, and tap target sizing.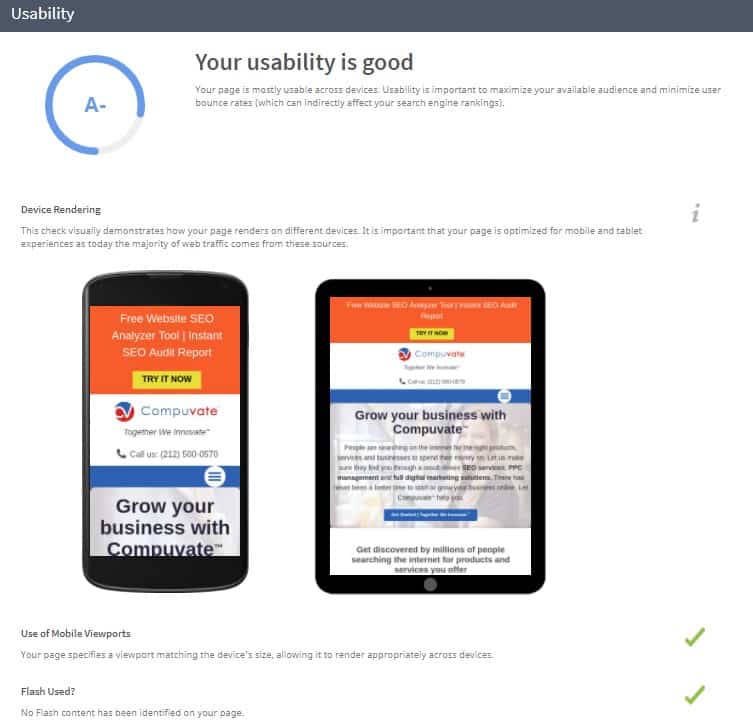 Website Performance Check and Result
Performance is important to ensure a good user experience, and reduced bounce rates (which can also indirectly affect your search engine rankings). The SEO analyzer will check for server response, page content load, scripts load, page size, and give a breakdown of your website page size. This check also displays the total number of files that need to be retrieved from web servers to load your page. The audit will also look at Google AMP, JavaScript errors, GZP compression, optimized images, minification, deprecated HTML, inline styles and more.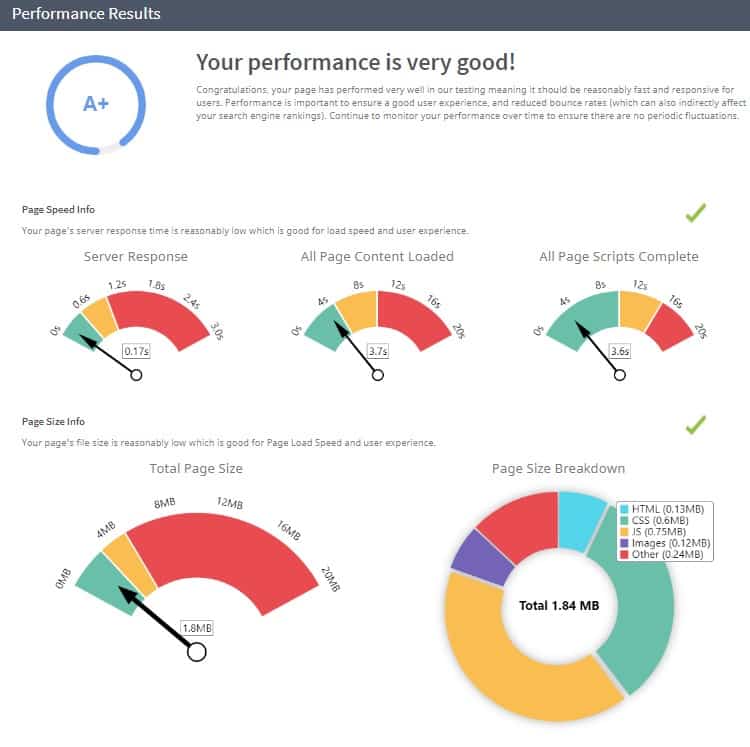 SEO Analysis of Website Social Media Presence
This SEO audit analysis will determine the strength of your website's social media presence. Social media activity is important for customer communication, brand awareness and as a marketing channel to bring more visitors to your website.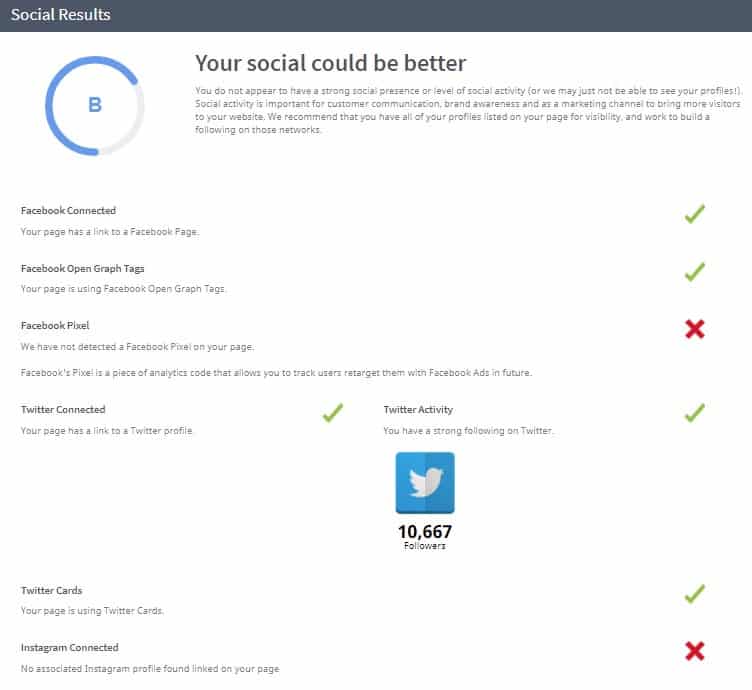 SEO Analyzer Recommendations
This final part of the SEO audit report will have a list of recommended fixes for your website and their priority indicators. We recommend you review each recommendation and implement a fix as soon as possible. This will give you a good head start to implement Google SEO best practices.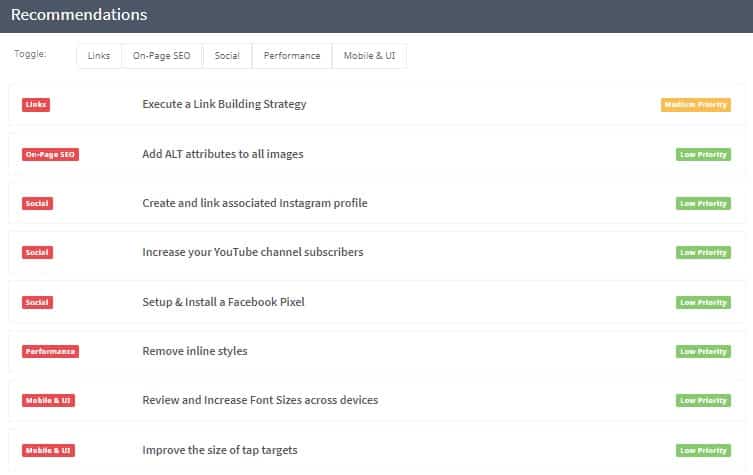 30 SEO Checker Tools FAQs
What are SEO Checker Tools?
SEO Checker Tools are digital resources that evaluate the search engine optimization (SEO) health of your website. They provide insights into your site's SEO strengths and weaknesses to optimize your content, keywords, meta tags, and more.
Why should I use SEO Checker Tools?
SEO Checker Tools can help identify areas where your website is underperforming in terms of SEO. They provide actionable insights and recommendations to improve your site's visibility, potentially leading to increased organic traffic and conversions.
How can SEO Checker Tools improve my website's ranking?
These tools provide comprehensive SEO audits, identifying issues like broken links, slow loading speeds, duplicate content, or poor mobile compatibility. They also offer suggestions for keyword optimization and backlink strategies, all of which can help improve your website's ranking on search engines.
Are SEO Checker Tools difficult to use?
While some tools may have a learning curve, most are designed to be user-friendly, providing step-by-step guides, tutorials, and customer support to assist users.
Can SEO Checker Tools help with keyword research?
Yes, many SEO Checker Tools have built-in keyword research features. They can suggest high-volume, low-competition keywords, track your keyword rankings, and even provide insights into your competitors' strategies.
How much do SEO Checker Tools cost?
The cost of these tools varies widely, ranging from free versions with limited features to premium subscriptions costing hundreds of dollars per month. The best tool for you depends on your specific needs and budget.
What are some of the best SEO Checker Tools?
Some of the best SEO Checker Tools included SEMRush, Ahrefs, Moz, Google Search Console, and Screaming Frog SEO Spider. It's best to research recent reviews to find the most current and effective options.
Can SEO Checker Tools help with competitor analysis?
Yes, many SEO Checker Tools offer the ability to compare your site's performance with that of your competitors. This can provide valuable insights into what they're doing well and how you can improve your strategies.
Can I use multiple SEO Checker Tools simultaneously?
Yes, using multiple SEO tools can provide a more comprehensive understanding of your website's performance. Different tools may offer varying perspectives and features, giving a more rounded view when used together.
Can SEO Checker Tools guarantee improved rankings?
While SEO Checker Tools can provide valuable insights and recommendations, they cannot guarantee improved rankings. Search engine algorithms consider many factors, some of which are beyond the control of any SEO tool. However, using these tools can increase your chances of SEO success.
How often should I use SEO Checker Tools?
Regularly checking your SEO performance helps you stay on top of changes and trends. How often you should use these tools can depend on your specific needs, but as a rule of thumb, monthly checks are usually a good practice.
Do SEO Checker Tools provide reports?
Yes, most SEO Checker Tools provide detailed reports after conducting an SEO audit of your site. These reports offer valuable insights into your website's SEO performance.
Can SEO Checker Tools help with local SEO?
Yes, many SEO Checker Tools can assist with local SEO by helping you optimize your site for local keywords, track your local rankings, and analyze your competitors' local SEO strategies.
Can SEO Checker Tools analyze backlinks?
Yes, backlink analysis is a common feature of many SEO Checker Tools. These tools can help you understand who is linking to your site, the quality of those links, and how you can improve your backlink profile.
How can I fix the errors found by SEO Checker Tools?
SEO Checker Tools typically provide recommendations on how to fix the issues they identify. You may need to modify your website's content, improve your site's speed, or adjust your backlink strategy based on the tool's suggestions.
Can I track my progress with SEO Checker Tools?
Yes, most SEO Checker Tools allow you to track your progress over time. This can help you understand whether your SEO strategies are effective and what changes may be leading to improvements or declines in performance.
Can SEO Checker Tools help with mobile SEO?
Yes, many SEO Checker Tools analyze your website's mobile optimization, offering insights on how to improve for better mobile search engine rankings.
Can SEO Checker Tools identify duplicate content?
Yes, identifying duplicate content is a common feature of SEO Checker Tools. Duplicate content can harm your SEO, so these tools can be very useful in finding and helping you resolve such issues.
Are there any free SEO Checker Tools?
Yes, there are free SEO Checker Tools available. However, they often have limited features compared to their paid counterparts. Some popular tools offer free versions with the option to upgrade for more features.
Can SEO Checker Tools help me understand why my site isn't ranking?
Yes, SEO Checker Tools can provide insights into various factors that might be affecting your site's ability to rank, such as technical issues, low-quality content, or lack of backlinks.
How do SEO Checker Tools determine what needs to be fixed?
SEO Checker Tools generally use an algorithm to analyze various aspects of your website, such as the use of keywords, the quality of your backlinks, page speed, and more. They compare these elements with best practice guidelines to identify areas of improvement.
Do I need technical knowledge to use SEO Checker Tools?
While some knowledge of SEO can be beneficial, many SEO Checker Tools are designed to be user-friendly and provide explanations and recommendations that can be understood even without a deep technical background.
Can SEO Checker Tools help me with on-page SEO?
Yes, on-page SEO is a major focus for many SEO Checker Tools. They can analyze factors like title tags, meta descriptions, keyword usage, image alt text, and more.
Can SEO Checker Tools help improve my site's loading speed?
While the tools themselves can't speed up your site, they can identify if loading speed is an issue and provide recommendations for improvement, such as optimizing images or enabling compression.
Can SEO Checker Tools help with my website's metadata?
Yes, many SEO Checker Tools can analyze your metadata, such as title tags and meta descriptions, and provide suggestions for improvement.
Can SEO Checker Tools identify broken links?
Yes, identifying broken links is a common feature of SEO Checker Tools. Broken links can harm your site's user experience and SEO, so it's important to fix them.
How do SEO Checker Tools handle data security?
Most SEO Checker Tools take data security seriously. They typically use secure connections for data transfer, and many have privacy policies that outline how they handle and protect your data.
Can I cancel my SEO Checker Tools subscription anytime?
This depends on the terms and conditions of the specific tool. Some tools offer monthly subscriptions that you can cancel at any time, while others might require a certain commitment period.
How quickly can I see improvements after using SEO Checker Tools?
SEO is a long-term strategy, and it often takes time to see results. However, if you implement the recommendations provided by SEO Checker Tools and maintain good SEO practices, you should start to see improvements over time.
Do SEO Checker Tools provide support and customer service?
Yes, most SEO Checker Tools offer customer support through various means, including email, phone, live chat, and extensive online resources. This can be extremely helpful if you encounter any issues or have questions about using the tool.