Compuvate & SEMRush Partnership
With SEMRush, you are equipped with over 50 tools for SEO, content marketing, competitor analysis, PPC, and social media marketing, streamlining your path to rapid online business growth.
*All images on this page are courtesy of SEMrush.
Enhance your organic traffic with SEMrush comprehensive and user-friendly SEO tools and workflows.
Uncover millions of national & local keywords
Analyze any domain's backlink profile
Run technical SEO audits
Track your SERP positions daily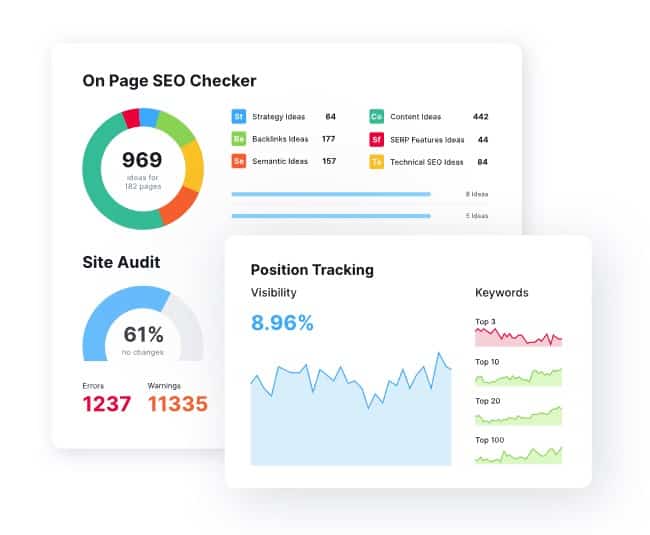 Create content that will rank high with easy, no specialized knowledge needed.
Find topics that resonate with your audience
Get actionable tips to create SEO‑friendly content
Audit and improve your content based on real‑time metrics
Track brand mentions and content reach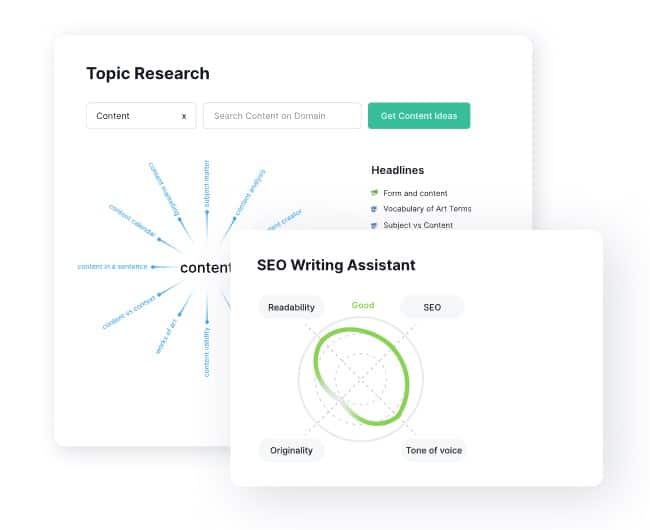 Discover your competitors' marketing strategies and tactics with SEMrush insightful market research tools.
Analyze traffic of any website
Unveil competitor promotion strategies
Get ideas for growing your market share
Discover keyword & backlink gap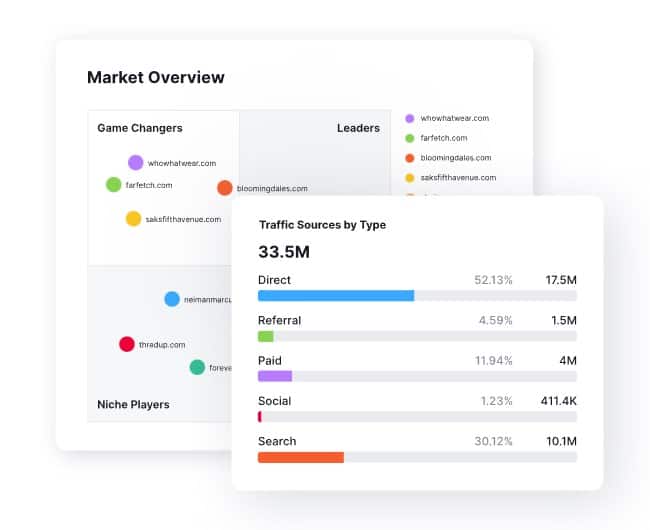 Uncover strategies to engage more potential clients while reducing expenditure with SEMrush advertising tool.
Find the best keywords for every PPC campaign
Monitor your competitor's ad copies and landing pages
Optimize your Advertising spend (at a local level)
Analyze Google Shopping ad campaigns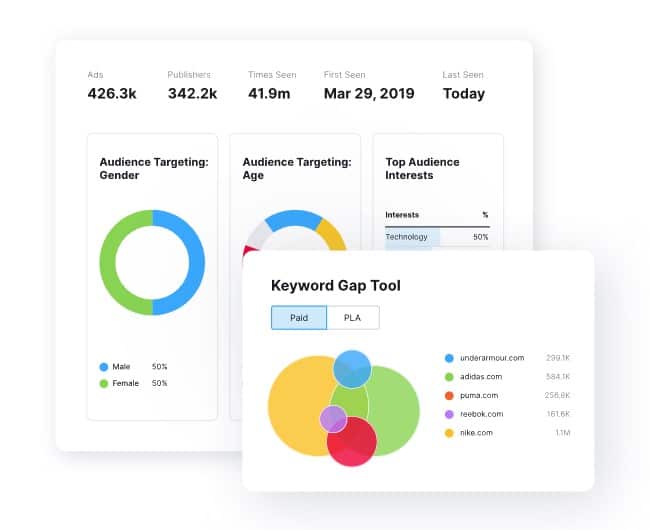 SOCIAL MEDIA MARKETING TOOL
Craft your optimal social media strategy for maximum impact with SEMrush social media marketing tool.
Schedule and post content on social
Analyze the performance of your posts
Track & analyze competitor accounts
Create & optimize social ads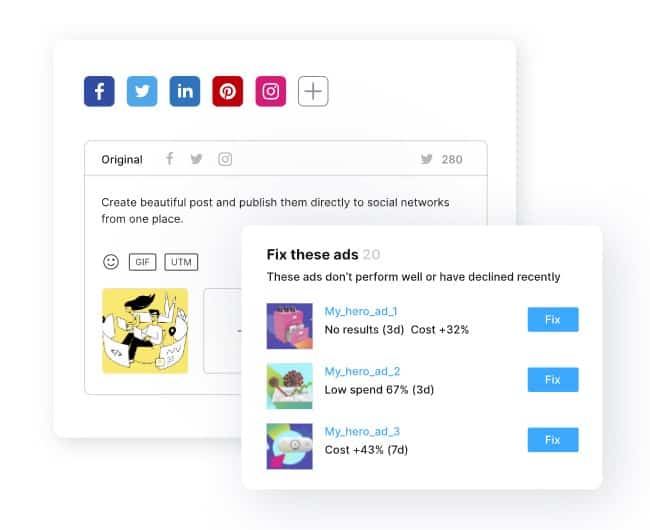 Companies worldwide, from small businesses to large enterprises, rely on SEMRush for their SEO needs
marketing professionals have already use Semrush
International awards as best SEO software suite
Fortune 500 companies use Semrush as their go-to marketing tool
"There is a direct correlation between using Semrush, being focused on SEO, and the sheer growth that we've had. Our organic traffic was up by 230% in 2019."
"We chose Semrush because the keyword tracking was much more accurate than our previou tools, and the interface was very intuitive."
"Our overall organic traffic increased sevenfold, with blog traffic making up over 75% of the visits! Semrush allowed us to optimize and run our content strategy with out needing an army of SEO experts."
*All reviews are from SEMrush website.
Start growing your online visibility today with SEMrush
Awarded a best SEO software suite
FAQs About SEMrush Software
What is SEMrush?
SEMrush is a comprehensive software suite designed for digital marketing professionals, offering tools for SEO (Search Engine Optimization), PPC (Pay-Per-Click), content, social media, and competitive research.
How does SEMrush help in SEO?
SEMrush provides various SEO tools such as keyword research, site audit, backlink analytics, position tracking, SEO writing assistant, and others. These tools can help you optimize your website's SEO performance by identifying opportunities and issues.
What is the SEMrush Site Audit tool?
The SEMrush Site Audit tool is a comprehensive website health checker that looks for issues such as broken links, slow-loading pages, security issues, crawl problems, and duplicate content. It's a valuable tool for identifying issues that could be impacting your website's SEO and resolving them.
How accurate is SEMrush's data?
While no tool can claim to offer 100% accuracy, SEMrush uses a robust data collection methodology and large data sets to ensure the information provided is as accurate as possible. It is widely regarded in the digital marketing industry for its accuracy and comprehensiveness.
Can I track my competitors with SEMrush?
Yes, SEMrush has a strong suite of competitive analysis tools. You can track your competitors' SEO strategies, keywords, backlinks, ad campaigns, and more.
What is SEMrush's Keyword Magic Tool?
The Keyword Magic Tool allows you to discover and segment keywords by various metrics, including volume, difficulty, competition, and SERP features. It's an essential tool for conducting keyword research and building effective SEO strategies.
How much does SEMrush cost?
SEMrush offers three main pricing tiers: tier 1 ($129.95/month), tier 2 ($249.95/month), and tier 3 ($499.95/month). They also offer custom solutions for larger businesses and agencies. Please check their website for the most up-to-date pricing.
Can I try SEMrush for free?
SEMrush usually offers a free trial for their services, but the exact details might vary. The free trial often includes limited access to their suite of tools. Always check their website for the most accurate and current information.
Is SEMrush only for SEO?
No, SEMrush is not only for SEO. It also offers tools for PPC, content marketing, social media marketing, and competitive research. It's a comprehensive digital marketing toolkit.
Can SEMrush help me with content creation?
Yes, SEMrush has a suite of content marketing tools that can help you create SEO-friendly content. These include the SEO Writing Assistant, which provides real-time SEO recommendations as you write, and the Topic Research tool, which helps you find popular topics in your industry.
Start growing your online visibility today with SEMrush
Awarded a best SEO software suite