SEO Analyzer | Free SEO Checker Tool to Audit Website SEO
Looking for a free website SEO analyzer or free SEO checker tool? Are you struggling with SEO? Not getting the traffic you want for your website? Use our website SEO analyzer tool to check your website. This SEO analysis report might give you the answers you are seeking. Use this free SEO checker tool to analyze your website's SEO performance. Enter your website's URL and click "Audit Now", to get an instant SEO audit report of your website.
No restrictions. Unlimited Use. No Email needed.
Our SEO Checker and Audit Tool is Trusted by Successful Brands and Agencies
A Comprehensive Website Audit
Search Engines such as Google and Big, rely on many SEO factors to rank a website. This Compuvate SEO tool is a Website SEO Checker which reviews these SEO factors and more. The objective is to help you identify problems that could be holding your site back from it ranking potential.
Additionally, we provide a clear, actionable, and prioritized list of recommendations to help you improve your website.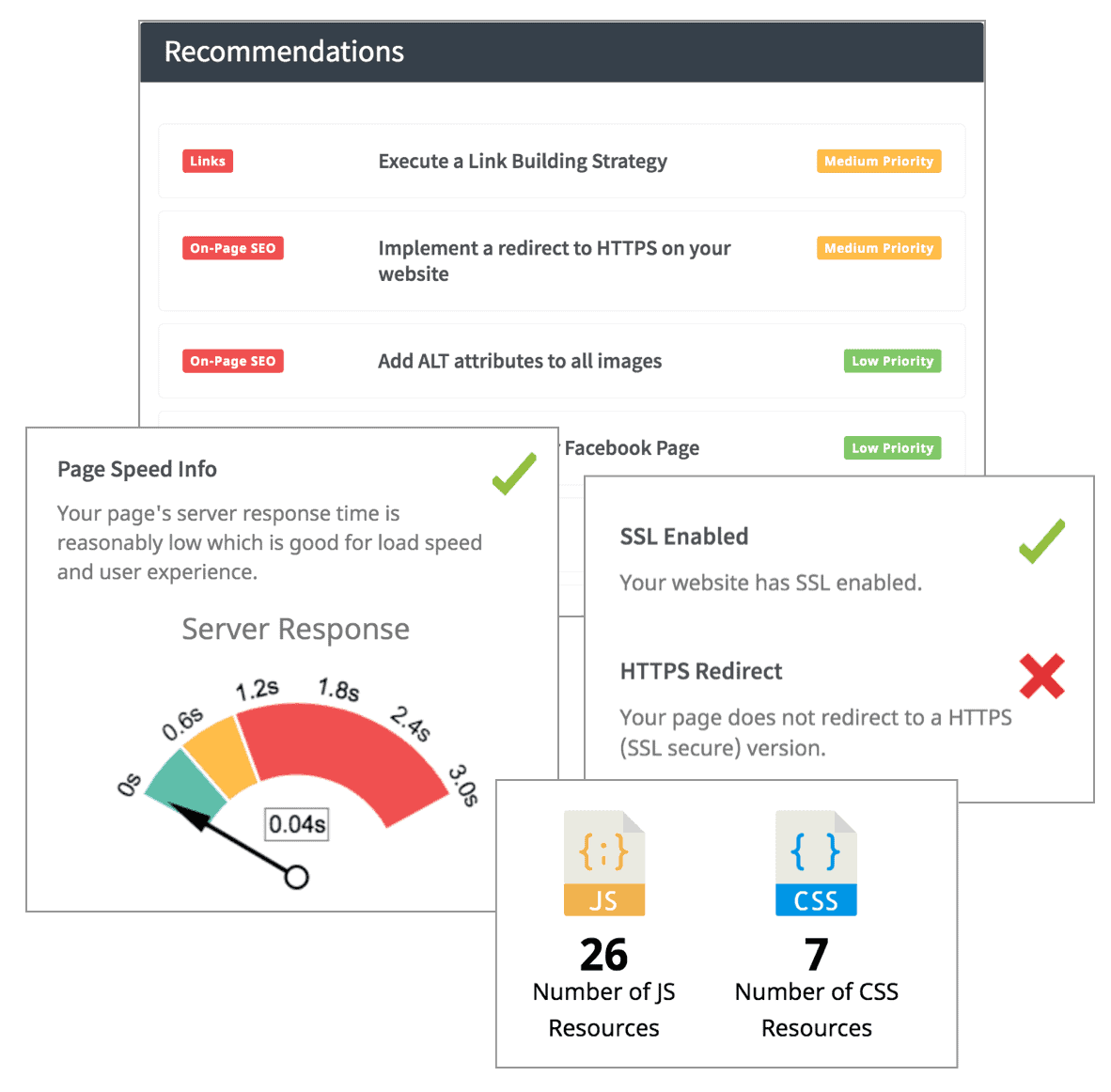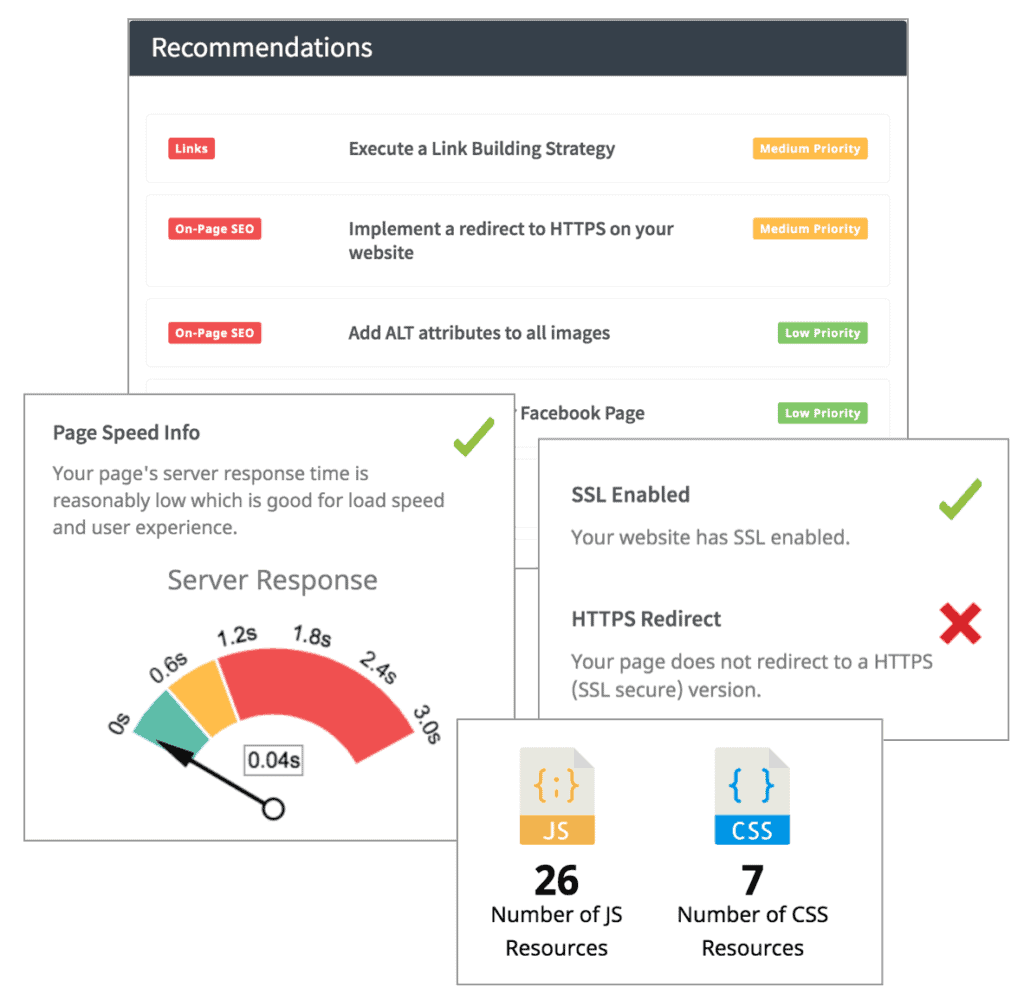 Website Usability check to improve user experience
Check Website SEO for maximum organic reach
Website Speed Performance analysis
Analyze website Security to ensure site is protected
Check website Social Media to grow your audience
This first section of the audit report gives you a graded summary of the critical components of SEO checked and analyzed by our SEO analysis tool. It also includes a link to recommendations should you want to check that section without having to scroll through the page. If you need help with search engine optimization, we offer reliable SEO services to get you more traffic to your website.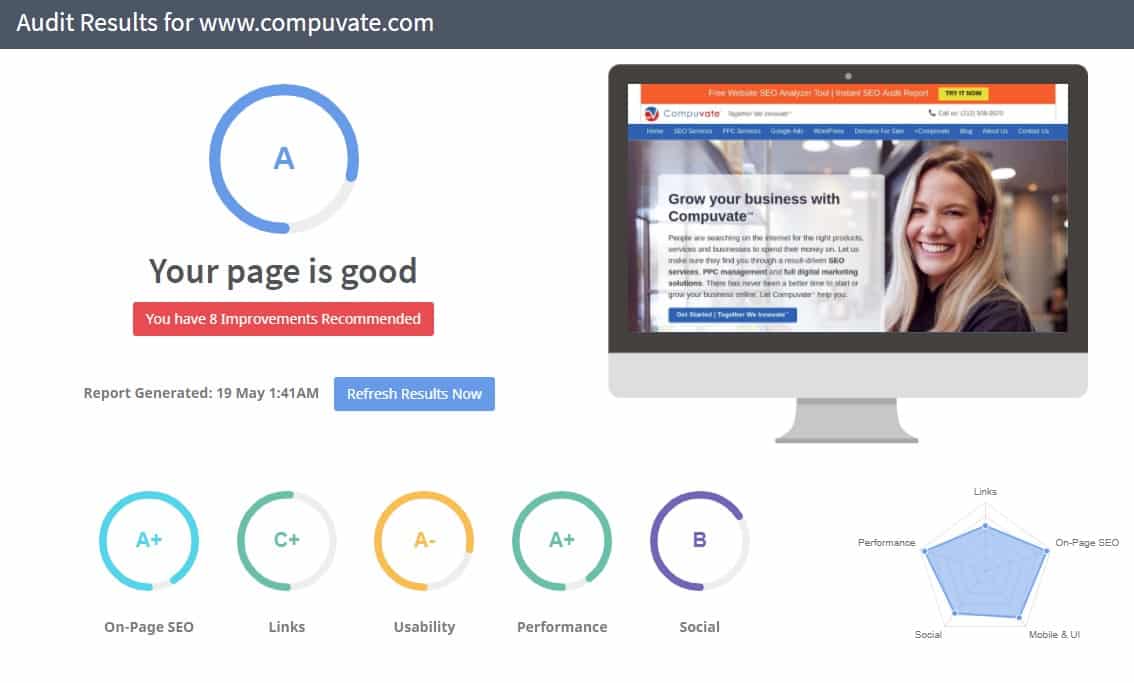 This section of the website analyzer report starts with a visual grade of your on-page SEO status. This audit will analyze SEO metrics such as title tag, meta description, header tags, keyword consistency, keyword count, content count, image Alt attributes, indexing, SSL, redirects, analytics, structured data and more.

SEO Analyzer will Check Keywords Ranking
The SEO audit tool will look at your website's keywords and their rankings. This section of the audit report shows your top 10 keywords and their Rankings. The keywords list would be presented in the order of keywords that drive the most traffic to your page.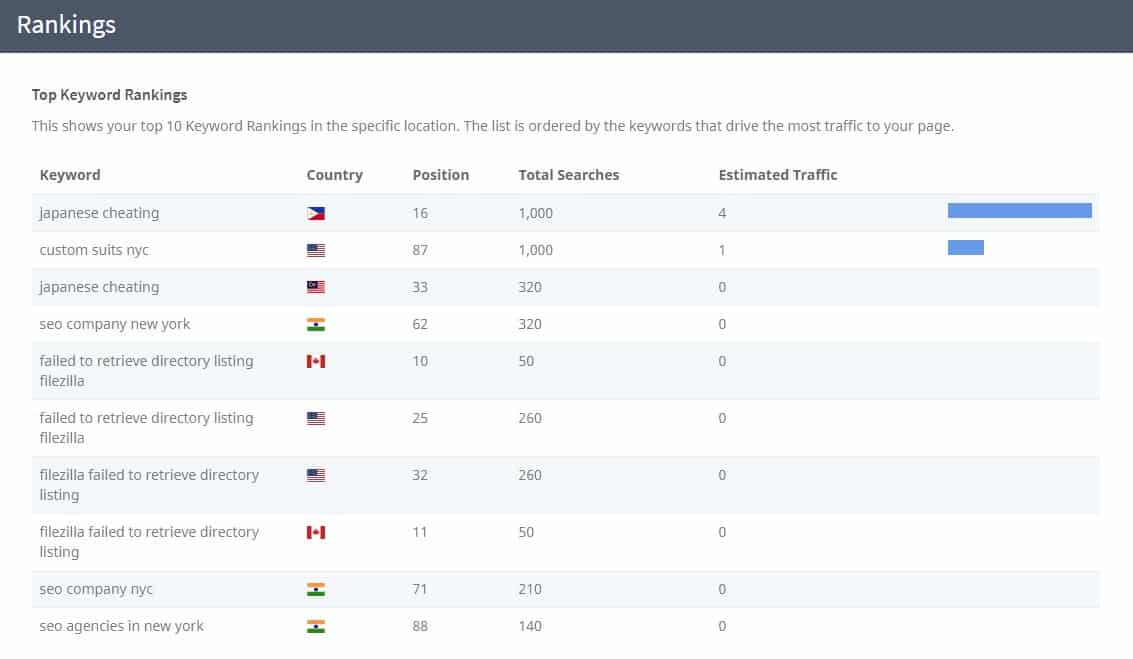 Website Backlinks Analyzer
Search engines use backlinks as a compelling indicator of a page's authority, relevance, and ranking potential. This part of the website SEO audit will analyze your backlinks. It will also give you a report of top backlinks to your website or webpages, including number of links, domain authority of backlinks, on-page link structure, and link friendliness.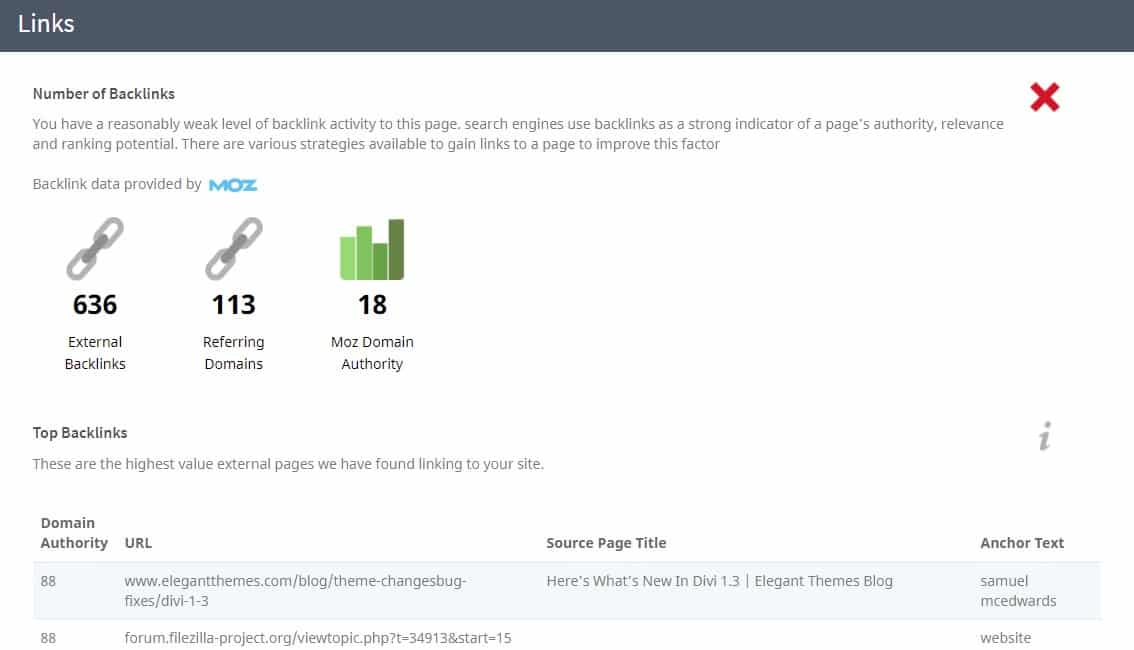 Website Usability Audit Report
Usability is important to maximize your available audience and minimize user bounce rates (which can indirectly affect your search engine rankings). This check visually demonstrates how your page is rendered on different devices. It is highly recommended that you optimize your website pages for mobile and tablet experiences. This is important because, these days, most of the web traffic comes from mobile devices. This SEO check will analyze areas such as use of mobile viewports, flash use, iFrames, favicon, email privacy, legible font sizes, and tap target sizing.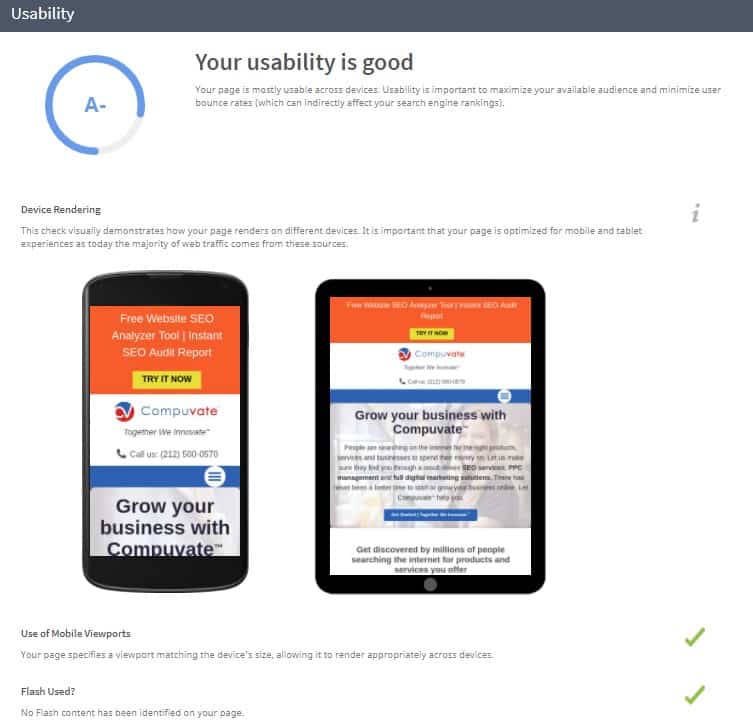 Website Performance Check and Result
Performance is important to ensure a good user experience, and reduced bounce rates (which can also indirectly affect your search engine rankings). The SEO analyzer will check for server response, page content load, scripts load, page size, and give a breakdown of your website page size. This check also displays the total number of files that need to be retrieved from web servers to load your page. The audit will also look at Google AMP, JavaScript errors, GZP compression, optimized images, minification, deprecated HTML, inline styles and more.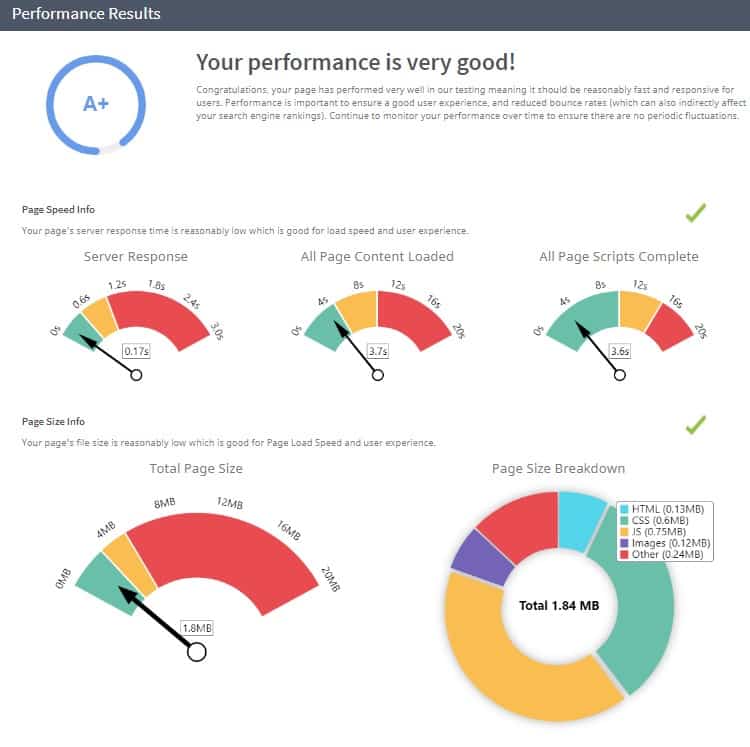 SEO Analysis of Website Social Media Presence
This SEO audit analysis will determine the strength of your website's social media presence. Social media activity is important for customer communication, brand awareness and as a marketing channel to bring more visitors to your website.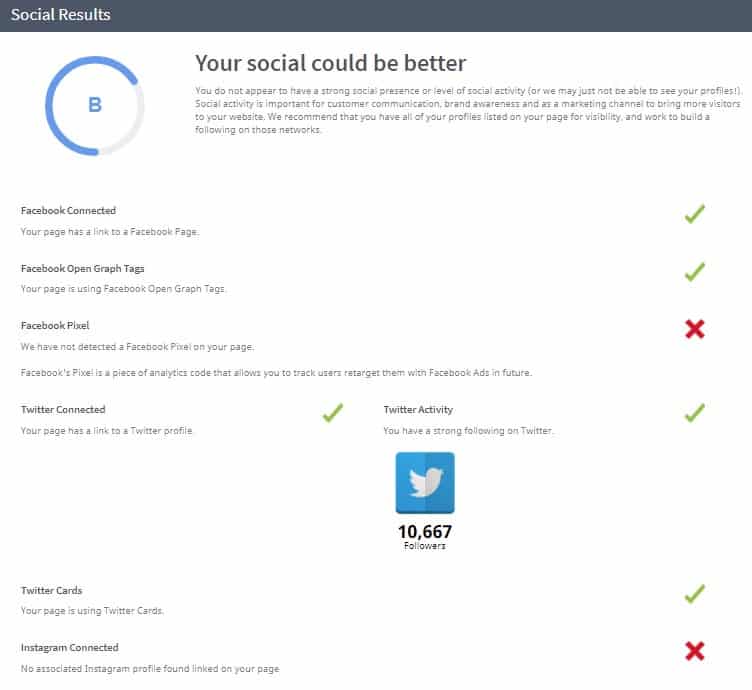 SEO Analyzer Recommendations
This final part of the SEO audit report will have a list of recommended fixes for your website and their priority indicators. We recommend you review each recommendation and implement a fix as soon as possible. This will give you a good head start to implement Google SEO best practices.