The Complete PPC Management Services that's results Oriented
PPC management services from New York City, to the Tri-State and beyond. Compuvate result oriented pay per click advertising management services can help you grow your business.
When it comes to your PPC Management Services, you need a reliable and accredited partner agency that knows what results are important and focus resources to achieve them. Compuvate is a TRUSTED AND ACCREDITED PPC Agency with the skills, experience and commitment to manage and achieve successful pay-per-click advertising campaigns. From New York City to around the world, your Pay-Per-Click advertising has never been better. You can confidently bank on our commitment to your success and growth!
Grow your business Online with Pay Per Click Advertising
Compuvate PPC Management Services can help you reach pre-qualified customers.
Endless opportunities
for any business to succeed online…
We provide Google AdWords Management Services and other PPC Management Services that outclass the competition. Hence, we manage Pay-Per-Click advertising campaigns on Google AdWords with great conversions and ROI. Campaigns are built in conjunction with a Google agency team to ensure high quality score. Because of this, you can consider Compuvate the PPC agency for your campaigns.
As a leading accredited Google Partner Agency in New York, we can help you reach more customers with our optimized PPC management services. We ensure high quality score which will reduce your Cost Per Click (CPC), increase conversion rates and help you achieve maximum ROI from each campaign we set up and manage.
Whether you are already advertising using Google AdWords or getting started, we have a complete PPC management package that includes Google AdWords and other Pay-Per-Click (PPC) advertising methods. With our expertise and agency access to various Google AdWords tools and APIs, our certified Google AdWords consultants will setup and management your AdWords campaigns for success.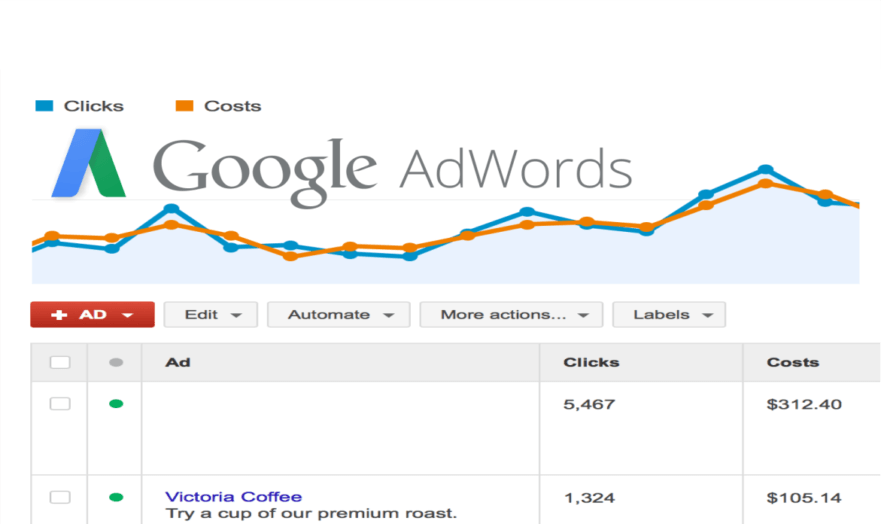 How do we build and manage campaigns?
We build and manage campaigns of all sizes in conjunction with our Google agency team. This will give your ads the best chance to maintain high quality score, improve ad rank and guarantees your ads are shown as frequently as possible. High quality score can also decrease your cost per click (CPC). It's also an important factor in determining your ad rank. We can guarantee that your campaigns will be built with Google's best practices which distinguishes us from other agencies.
If you are already advertising on Google, our AdWords management service includes; reviewing, optimizing and managing your campaigns so you can receive maximum conversions and ROI. As an accredited AdWords Agency, we can manage your existing AdWords campaigns without ever needing or asking for your Google account password. We're able to do this because Google has given us the tool to do so. With Google's MCC (My Client Center), all we need is your AdWords account ID. We add your account ID into our MCC. You get a request to grant us access to your AdWords account only. When you grant us access, all is set and ready to go. You will see and have full access to all we manage in your account. Very transparent! Thanks to Google.
Key points you should note about our PPC management services:

We ensure a high Quality Score for all your Google AdWords ads.

We will continually manage and optimize your account after setting it up for you.

We will be available to answer your questions and discuss your concerns by phone, by email or a visits in person.

You will have at-will access to your account 24/7.

We are Google Partner Agency. It takes meeting strict Google requirements to become one. We have and it's proof we can help you succeed.

We are a leading New York PPC Agency located in the heart of Midtown Manhattan in New York City.

We provide our pay-per-click (PPC) management services to clients in New York, New Jersey, Connecticut, the entire United States and to clients abroad.
Trillions of searches every year on Google.com alone
Over half are made on mobile devices. Reach these pre-qualified customers with mobile optimized ads.
Ads built for mobile first,
Reaching your direct target market…
What can our ppc management services do for you to succeed online.
Below you will find some of the most common strategies we use in our top-class Google AdWords management and other PPC management services.
Keyword Research

Our certified Google AdWords experts will research keywords for your products, services or business. We'll identify search terms that are generating top search traffic from prospects ready to make a transaction. We will also research and analyze the current trend of those keywords with your competitors to develop a competitive keywords strategy for your campaigns.

Ad Copy-writing

We ensure that your ad copies are relevant to keywords, landing page content and comply with Google AdWords policy. We will add call to action that lets your prospects know what action they should immediately take and what to expect.

Ad Landing Page Optimization

When advertising with Google AdWords we ensure that your ads landing pages are optimized for ads relevancy, Google AdWords policy compliance and user friendly. This will improving Quality Score.

Campaign Setup and Management

Our certified AdWords consultants will setup and fully manage your campaigns. We'll then continue to provide ongoing campaign optimization and reporting to ensure maximum results are achieve within your budget (big or small).

Analysis and Reporting

We will regularly analyze your campaigns and provide reports to ensure we are within targeted goals and determine any area for improvement.
As a leading New York PPC Agency supported by a dedicated Google agency team, your campaigns are built to succeed from the very start.
Contact us for more information about our PPC management services and find out how we can greatly help your business grow. Give us a call on: (212) 500-0570 or contact us through our online contact form.
[ Contact our Support Team ] to talk about your Online Goals.
We are here to help, guide, deliver and celebrate success with you!
"When there is no skillful direction, the people fall. But there is success through many advisers."