Search engine optimization or SEO is the hottest method to drive targeted traffic to your website with lasting result. It's almost certain that when your website gain top organic rank in the major search engines for relevant keyword and content you're almost guaranteed that top spot for a very long time to come. Maximizing the benefits of a well optimized website will yield lots of benefits including earnings for your business or the internet marketer. However, optimizing your site might cost you thousands of dollars if you are not skilled in this area or done incorrectly.
The truth is you can get essential information on low cost SEO anywhere in the Internet. But only few really show you how to work out an affordable search engine optimization strategy. This article and website is one of the few that will give you real info on how to accomplish this
Now lets talk about these four effective SEO strategies that can be free or low cost.
1. Link Exchange for SEO
One Free or low cost SEO method that can get you lasting results is through link exchange which is linking your website or webpages to and from other websites. Depending on the websites that you would like to exchange links with, this method could even cost you nothing at all.
What you need to do is to contact the author or owner of the website you want to have a link exchange with. In most cases this should be relevant websites were both parties stand to benefit from the link exchange. Also, linking with a well established, reputable or popular website the better. You will be surprised with the spike your page ranking will achieve using this method of getting your website optimized for search engines.
2. Publish Keyword Rich/Relevant Articles on your Website
Writing and publishing a truly informative and keyword-rich or relevant articles is one surefire way to make your website and Internet business more visible than ever. You can either write your own articles or get them from article directories that allow you to post these articles on your website as long as you keep the resource box or the author's byline intact.
However, you don't want to stuff your articles with keywords that can make reading your article become boring for your readers. You'll have to use the appropriate keyword density. The readability and freshness of your articles will still be the basis of whether your readers will keep on reading and eventually come back to your website.
Your article copy need to have at least a score of 50% in the Flesch Reading Ease Test, the higher the score the better. I always ensure my article have a 'Flesch Reading Ease Test' score of above 70%. You also want to ensure that your relevant keyword or key phrase appears in the title and URL of your article or page. Make sure that the useful content of your article is at least 300 words. Include your keyword or key phrase in 'h2' and image 'alt' tags.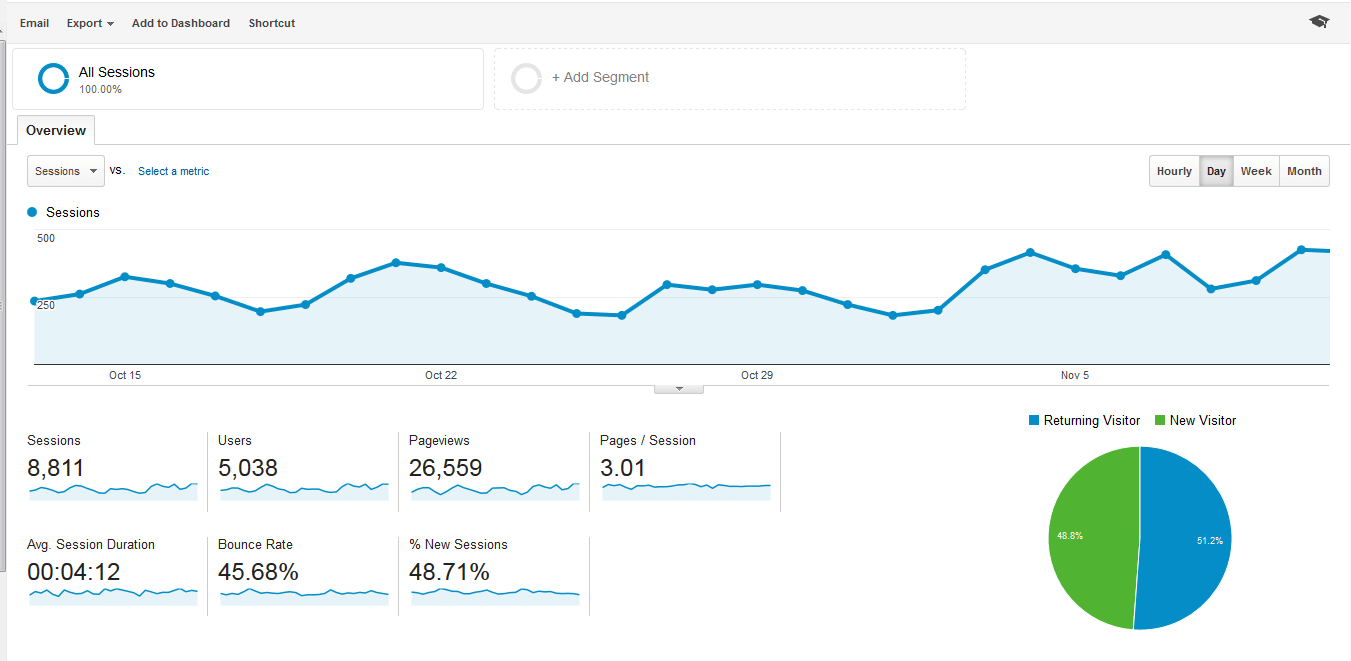 3. Organize your Website Navigation
Providing easy and smooth steps in navigating your site is one way your can improve users/visitors experience in your website. This is one of the very important SEO Strategies. You want to ensure that visitors to your website can navigate smoothly or seamlessly from one part/page of your site to the other. This, in turn, will improve the flow of traffic to your website.
Make your website and pages mobile responsive as users are now more than ever before using their mobile devices to access webpages on the internet. Having a mobile responsive or mobile friendly website will assure you have your own good share of the traffic that come from the mobile users demography.
In the analytic image above, you'll see that 'new visitor' and 'returning visitor' is almost divided in half with returning visitor at 51.2%, users spending over 4 minutes on average per session and over 3 pages view per session. This is a clear indication that the website from which that screenshot was taken carries a well navigation structure and relevant content.
4. Use a Catchy or Memorable Domain Name for your website
What a better way to make your target visitors remember your website than a very easy-to-recall or memorable domain name. Something sweet and short will prove to be very invaluable. Registering your domain name is not free (except when you buy web hosting here, you get a free domain name). But creativity is free! So be creative and come up with a domain name that your visitor or customers will easily remember.
Low cost SEO strategies is always evolving like any other approach in information technology. There are many methods of SEO Strategies that can very well land you on the top 5 rankings of Google or on any other search engines. Some may cost a lot, while others like those mentioned above can give you the same results at a low price or you can even implement them on your own.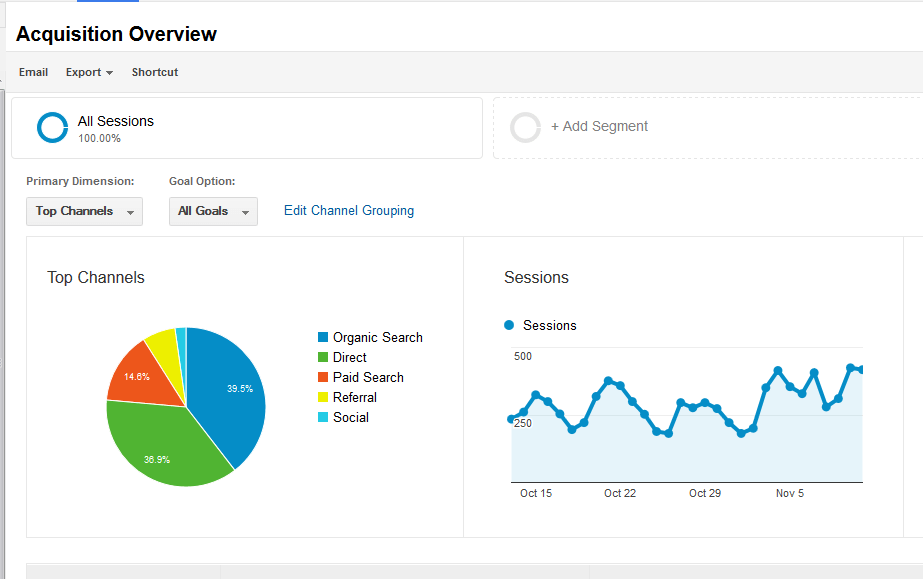 From the screenshot above, you'll notice that only 14.6% traffic is paid traffic. The rest, 85.4% is free traffic which includes 39.5% organic searches of 5,038 visitors as shown in first screenshot.
I hope this article will help you get started on your SEO strategies for a top ranking website.
Yes! You can drive good traffic to your website and rank well using free or low cost SEO Strategies.
If you still need help in implementing a comprehensive SEO Strategies for your website or online business, we'll be glad to assist you. You can even request a free initial SEO Consultation on our SEO Service page on this website or call us at 212-500-0570 or email us at: support@compuvate.com
Do you know of any other free or low cost SEO Strategies? Share with us in the comment section below. Thanks you!